Hi there, I'm Nathan Gao, a User Experience Designer in NYC. If you need help with complex problems, I can help.
As of July 2017, this website is currently undergoing a major update. Until it's completed, the case studies below (and the design of this site) will be very out of date.
In the meantime, please feel free to take a look at an updated copy of my resume, visit my linkedin page, or if you have any questions, shoot me an email at nathan.gao@gmail.com..
Thanks for visiting!
Selected Projects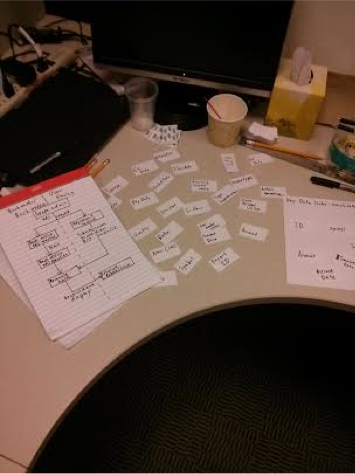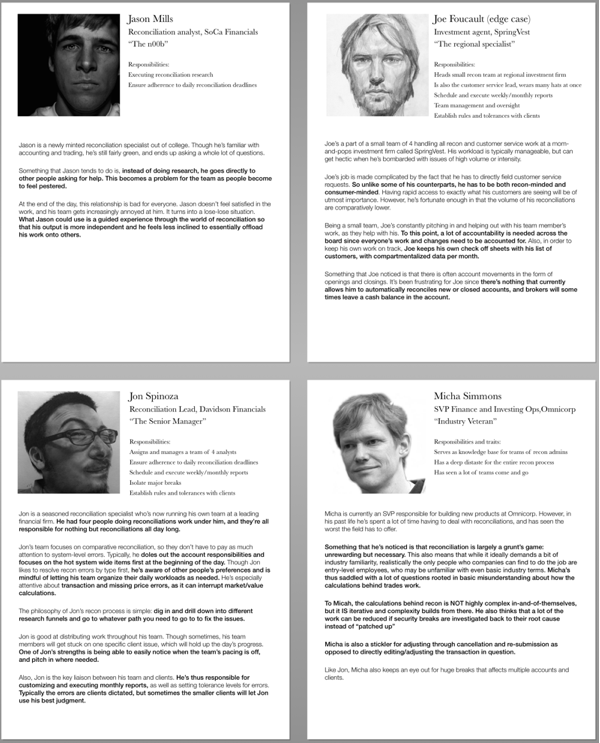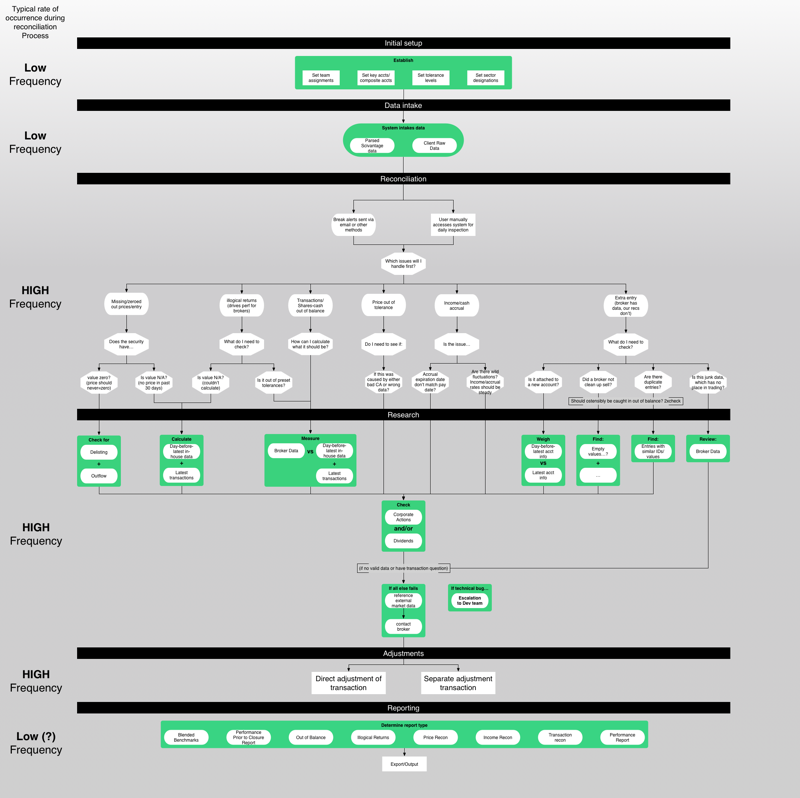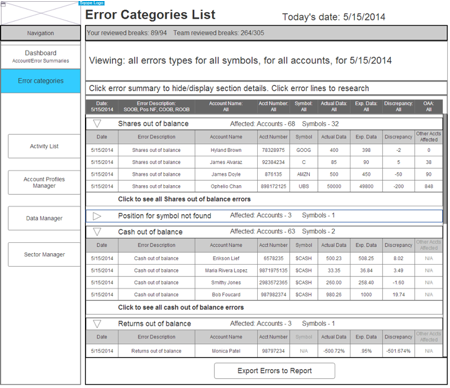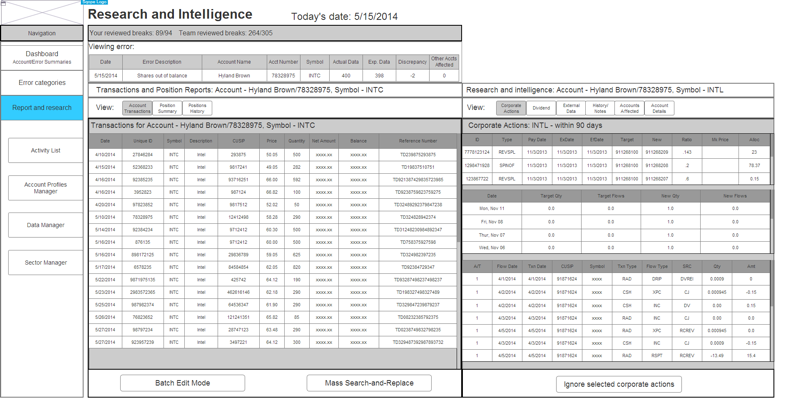 Client: Scivantage
Foundational Design of Financial Reconciliation Product
Project Role: Sole Designer
A leading financial product vendor based out of Jersey City sought me out to design a trade reconciliation product. Working with difficult domain knowledge and an uncertain market environment, I was able to successfully deliver a 1.0 product design from scratch in less than 8 weeks.
The project began with extensive research. In a low-data environment, I conducted SME and stakeholder interviews, and sat in on multi-day team discovery sessions in order to gain understanding of a complex domain.
From there, I developed various initial designs based on early research insights gradually encouraged stakeholder feedback. Due to constraints, static wireframes were eschewed in favor of an interactive lo-res prototype.
later stage deliverables and designs
Through multiple iterations of stakeholder feedback, I was able to design a functional foundation for the yet to be named product.
My last work on the project was to transition the design onto the team Senior Designer to develop further. Development for this product is ongoing, and I am still doing occasional consulting on the project as of Fall 2014.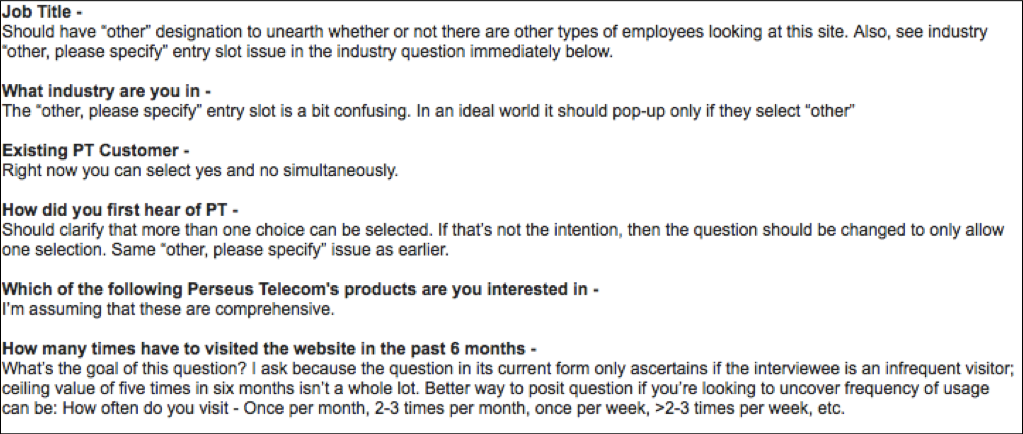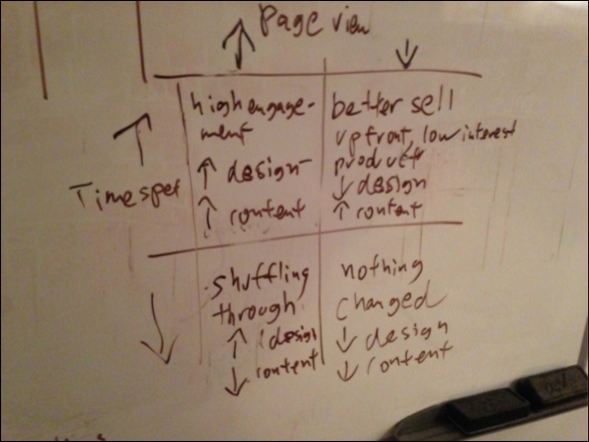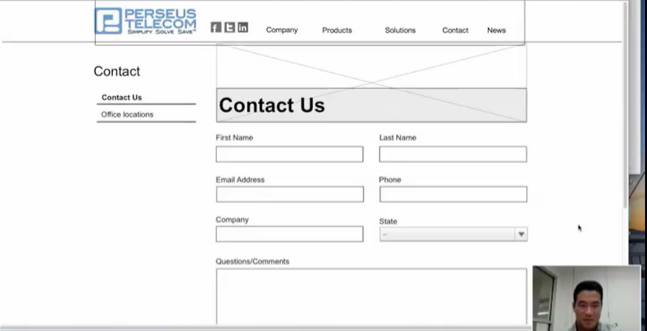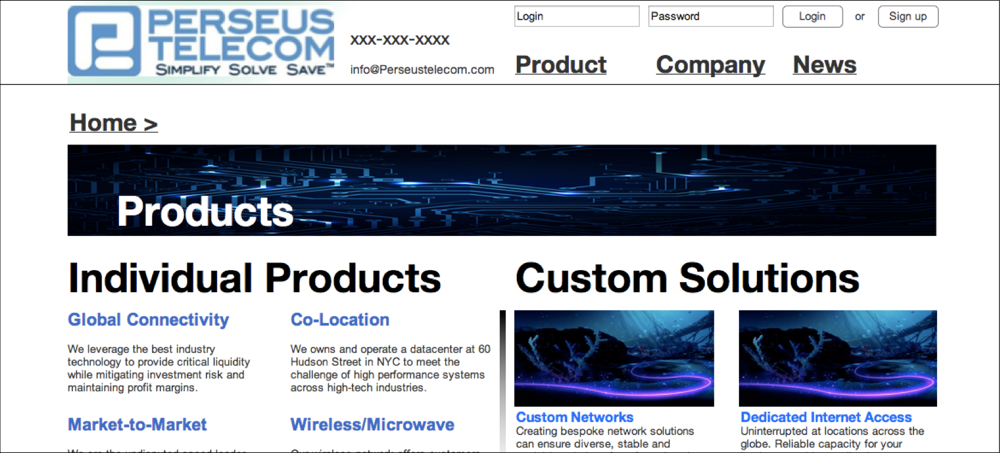 Client: Perseus Telecom
Corporate Website Redesign
Project Role: Lead UX Designer
I was approached to help lead the design of a new website for Perseus Telecom, a leading ultra-low bandwidth internet service provider in NYC. The client wanted to find ways to better retain their site's visitors, with the goal of converting them into potential customers.
Facing an adverse research environment, we utilized surveys to the best of our ability. A less-than-satisfactory initial distribution saw me editing the entire survey, which in turn led to a new distribution with a 400% response rate improvement.
We then immediately acted on the insights to develop personas, scenarios, and establish desirable KPIs.
With limited time remaining, we rapidly iterated through rapid wireframing, testing, and prototyping. Our efforts led to not only greatly improved feedback from testing iterations, but buy-in from the client to move the project forward.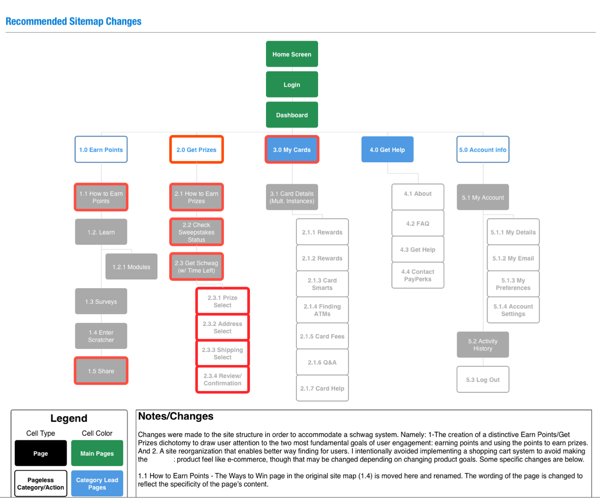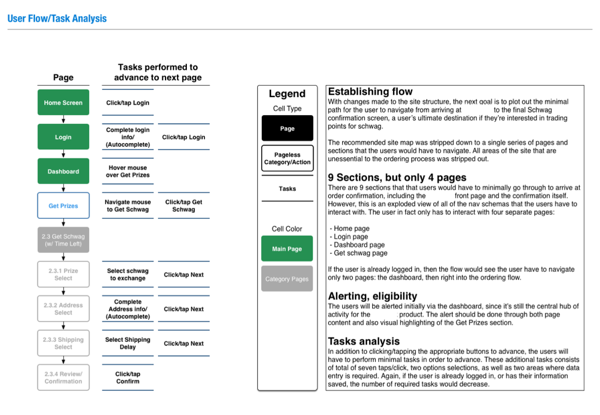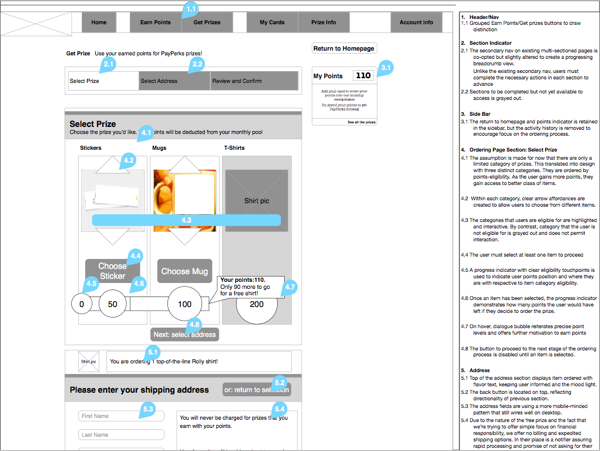 Company: Private Startup
New Product Feature Design Challenge
A funded, growing startup was interested in exploring new user engagement verticals, and sought feedback on how their current product could expand to accomodate such a vertical from an interaction design perspective. I took a weekend to develop a potential solution for them.
IA and Heuristics Assessment and Reconstruction
The client had a singular engagement model. I had to assess and understand how it currently manifested within its product in order to suggest new potential outgrowths. Using site maps to task analysis, I dug into the product's structure and found strengths and weaknesses.
Building a checkout flow that isn't a checkout flow
Simple visual mockups and wireframes were used to present the look and feel as well as present new interaction flows. Everything was then presented as comprehensive documentation.
For more information on the project, send me an email and I'll be glad to walk you through the details.
This Site
After not touching basic HTML/CSS for a long time and being frustrated by site builders, I decided to re-teach myself the basics as well as some light Jquery. What you're looking at is my first project, built from a cocktail of Bootstrap, CSS-tricks, Stack Overflow, and web pages long lost to Google cache.
Just a tad bit of animations and visual flourish were used, all of it used to accomplish two things: keep focus on the content and the story, while always making sure the viewer can find their way. Kinda outlines my design philosophy, really.
I have no pictures for this project, just memories of occasionally cursing at semicolons.
Thoughts? Feedback? Merciless criticism? Send me an email.
Thank you for visiting!